Daily Challenges are "daily" objectives in Temple Run 2. You can earn prizes when they are complete, and daily challenges are reset everyday at midnight.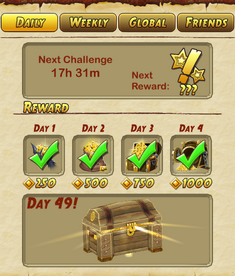 Day 1 (Daily Challenge)
Edit
Day 2 (2 consecutive)
Edit
Day 3 (3 consecutive)
Edit
Day 4 (4 consecutive)
Edit
Day 5+ (5+ consecutive)
Edit
Daily Challenges are a great way to earn coins and gems (found in Treasure Chest), and if you are saving up for a specific character/upgrade, you should do Daily Challenges often.
If you currently have the objective Daily Doses (5 Daily Challenges in a row) or Daily Dozen (12 Daily Challenges in a row) to do, you should do a Daily Challenge everyday.
Unlike the Artifact Chest which only give you artifacts that can only be redeemed for a small amount of coins, the Treasure Chest earned after 5+ Daily Challenges can give you up to 10,000 coins.
Ad blocker interference detected!
Wikia is a free-to-use site that makes money from advertising. We have a modified experience for viewers using ad blockers

Wikia is not accessible if you've made further modifications. Remove the custom ad blocker rule(s) and the page will load as expected.