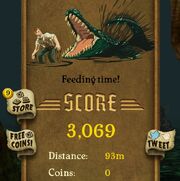 But I'm scared of heights!
Who left Barney out of his cage?
Aaaaaaaah!
Mind the gap.
End of the road...
I'm reporting this safety violation!
You fell to your death.
Bubble, bubble, bubble...
Missed it by *that* much.
Not again!
Adios!
Swimming with the fishes.
So close.
You made a tasty snack.
Feeding time!
Hitting Objects
Edit
Mmmm, crispy explorer.
Good thing I have a hard head!
Having a bad hair day?
An ancient dance of hokey pokey.
Simply mystifying!
Harder than it looks...    
Caught you!
Tree hugger!
Trees hurt.                                                                                              
Evil Demon Monkeys
Edit
You made a tasty snack.
Nom nom... leathery!
I eat explorers like you for breakfast.
Smells like toast.
Ad blocker interference detected!
Wikia is a free-to-use site that makes money from advertising. We have a modified experience for viewers using ad blockers

Wikia is not accessible if you've made further modifications. Remove the custom ad blocker rule(s) and the page will load as expected.