Evil Demon Monkeys
Comments

34
103pages on
this wiki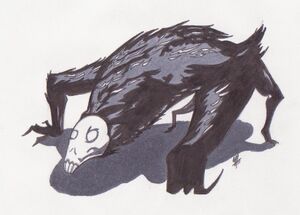 Evil Demon Monkeys are the blue and black creatures seen at the start of the game and whenever a player trips. They appear to be larger and leaner than regular monkeys and appear to have a skull covering their face. These monkeys are following the character in an attempt to catch him or her from stealing their golden idol. The player plays this character and the enemies are computerized. They eat the character if they catch him or her. The monkeys can also jahoop the player.
There are 9 Evil Demon Monkeys. Here is the list of them.
-Oomlock, Muncher, Ambush, Orc, Hook, Stalker, Serge, Scorcher and Ferocious
The other names are unknown
Temple Run 2
Edit
Bloodshed: The giant monkey
In Temple Run 2 , the nine demon monkeys from the previous game have been replaced with one large monkey and its name is Bloodshed.