The Temple is the place your character is running away from the Evil Demon Monkeys. It looks to have been built thousands of years ago, by who knows what civilization.
Temple Run 1
Edit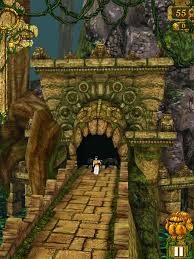 Raise stone walkways
Wooden walkways like docks
Rocky paths
All structures are set over a jungle-like swamp
Temple Run 2
Edit
Stone/Grass paths
Mines (in a mine cart)
Zipline (sliding)
Wooden Planks
Aqueduct
All structures floating high in the air over a mountain range
Ad blocker interference detected!
Wikia is a free-to-use site that makes money from advertising. We have a modified experience for viewers using ad blockers

Wikia is not accessible if you've made further modifications. Remove the custom ad blocker rule(s) and the page will load as expected.