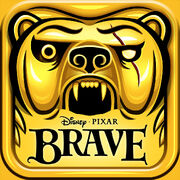 Temple Run: Brave is a spin-off of the original Temple Run and is based on the Pixar movie, Brave. It was announced on early June 2012 that Imangi Studios and Disney collaborated to promote the film through tis game. It was finally released on June 14, 2012 and however, cost 99 cents to purchase.
Set in the forests of Scotland, the player assumes control of the protagonist of the film itself and the game, Merida while being chased by the antagonist, Mor'du, the demon bear.
The gameplay is similar to the previous game and the objective is still retained: survive by running and dodging obstacles along the way, the landscape has been altered to fit in with the setting.
Similar to
Temple Run
, there is also a store, where the same power-ups can be enabled and eventually upgraded to the maximum level. Though there are no other characters as of this time for purchase, there are however outfits that can be bought to customize Merida's appearance, with each of them costs 10,000
coins
.
Utilities
and
Wallpapers
also return from the previous game.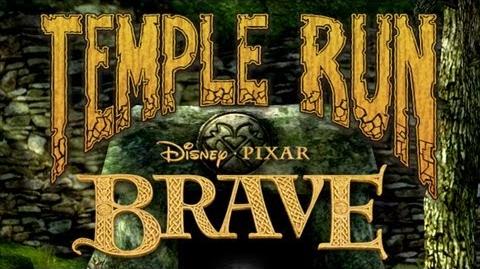 A brand new feature has been added to the game, "Archery". While running, an arrow symbol and a bow-and-arrow image will appear on the screen. The player can shoot anywhere to hit targets found on the sides of the screen. Yellow dot indicators also help in determining how many targets will appear. If the player is successful in striking all available targets, he/she will gain bonus points. These bonus points can also be upgraded on the store.