Temple run wiki
A Wiki about the hit mobile game, Temple Run!
145 articles and 7,609 edits
Sign up so you can help us out and edit!

Welcome to the Temple Run Wiki!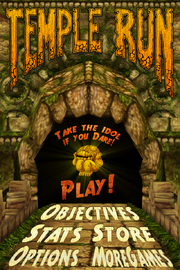 This wiki is about the game for iPhone/iPod touch/iPad as well as Android phones and tablets. Learn, contribute to, and share your knowledge! Please help this wiki by correcting any errors you see, and add new pages if we're missing a subject.
Objectives
We hope this wiki will eventually catalog all of the 36 objectives in the game. You can help by editing one of the current objectives, or creating a new page for one that doesn't exist, being sure to keep the correct format as the previous objective pages.
Ad blocker interference detected!
Wikia is a free-to-use site that makes money from advertising. We have a modified experience for viewers using ad blockers

Wikia is not accessible if you've made further modifications. Remove the custom ad blocker rule(s) and the page will load as expected.